Let's Talk Tooth Brushing Tips With Dr. Adena Borodkin of Golden Valley Kids Pediatric Dentistry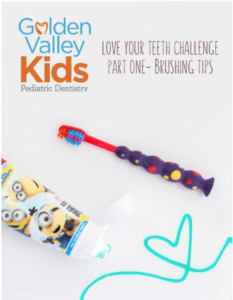 February is Children's Dental Health Month, and we're excited to kick things off with some tips on brushing teeth. We made a Love Your Teeth coloring sheet, that you can download and print for your kiddos as we go over one way you can love your teeth each week in February.
Creating good dental habits for your children should start as soon as they wake up. Before breakfast, you should brush your teeth with your kiddos. When children are learning good habits, modeling the behavior can be beneficial. Let them watch you, and then work with them on their skills. Some kids need a reminder rule, such as 'don't come down for breakfast until your teeth are brushed!'
To start with, make sure you're using a soft bristle toothbrush. If your child can spit their toothpaste in the sink, use a thin smear of toothpaste. If you find they're swallowing their toothpaste, use a very small amount that is about the size of a grain of rice. Kids should know how to brush well with a regular toothbrush prior to introducing an electric or spinning brush. These options can be introduced when ready and can help keep the teeth cleaner and free of stains when used correctly.
It's a good idea to establish a consistent brushing pattern. This will ensure that all areas of the mouth are taken care of. Start at the same place, on the same side, and follow the same order when teaching your kids how to brush. For example, start on the left side with your bottom molars. Work your way around to the front bottom teeth, then the right bottom teeth. Be sure you're paying attention to the back AND front of teeth surfaces. You'll also want to make sure that they/you are paying attention to the gum line. Don't forget to brush the tongue as well.
Let your kids take control and have some say. Encourage them to take turns with you so that they learn how to brush, and you make sure their teeth are being cleaned thoroughly. You can also make a game of it! You can make believe and play dentist office. Let them brush your teeth, then take a turn being dentist and brush theirs.
If you encounter some resistance from your kids, try changing the brushing venue. I often instruct parents of younger children to sit on the floor and have their child lay down on their legs. This makes it easier to see your child's teeth and might be more comfortable for the child than having someone standing over them.
You might also want to have a variety of toothbrushes and toothpastes on hand. That way, they have a fun choice to make every morning and evening.
As an incentive, you can display our teeth brushing chart in your bathroom! Let them put a sticker in each spot for morning and night when teeth are brushed, then bring it into our office and let them pick out a prize.
If you still have any brushing resistance, you can always bring them into our office for a brushing lesson, and a long talk about sugar bugs and cavities!
If you have any questions or have a topic you'd like us to write about on our blog, please let us know!