Let's Talk Mouth Guards with Dr. Adena Borodkin of Golden Valley Kids Pediatric Dentistry in Golden Valley, MN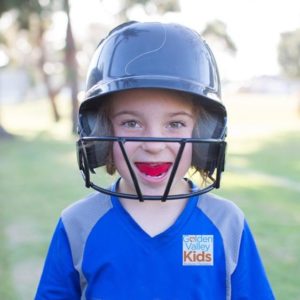 With summer upon us, and with it summer camps, we'd like to talk about the importance of your child wearing a mouth guard while playing sports. Many people think that mouth guards are only for high contact sports, or for high school athletes. However, the American Dental Association recommends that they be used at whatever age your child begins to play sports where they are at risk of contact with another person, or a sport with high risk of head injury.
The sports for which the ADA recommends mouth guards be worn are: acrobatics, basketball, boxing, field hockey, football, gymnastics, handball, ice hockey, lacrosse, martial arts, racquetball, roller hockey, rugby, shot putting, skateboarding, skiing, skydiving, soccer, squash, surfing, volleyball, water polo, weightlifting, and wrestling. Even if children aren't at a level where they are making a lot of physical contact, making the mouth guard a part of the sports uniform is a great habit to start at a young age.
Accidents can happen when your child is playing a contact sport, but also when they are just climbing and swinging at the playground. In a study published by the University of Alabama at Birmingham, an injury database was reviewed to reveal the most common reasons for emergency department visits. The 5 most common causes of childhood injuries were, basketball, football, bicycling, playgrounds, and soccer.
Not only do mouth guards help prevent dental injuries, they also help prevent concussions according to a study by peer reviewed journal, 'General Dentistry.' It is thought that the mouth guard absorbs some of the shock that causes concussions. Another benefit is teeth grinding! If game nerves make your child clench or grind their teeth, a mouth guard can help alleviate the pressure.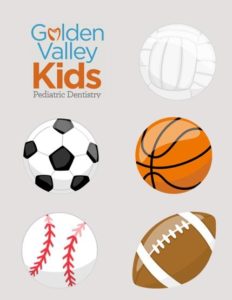 A study by the ADA found that individuals are sixty times more likely to damage their teeth while playing sports if they are not wearing a mouth guard. The ADA also estimates that mouth guards prevent more than 200,000 injuries per year. Although the number of sports related tooth injuries tops 600,000 per year.
A mouth guard purchased at a store and boiled to fit can work well in protecting the teeth. The mouth guard should cover the teeth and extend onto the gum areas. If your child finds these preformed mouth guards to be uncomfortable, we can fabricate a custom mouth guard in our office. These custom fit mouth guards tend to more comfortable and well received by our patients. Those patients undergoing orthodontic care must be sure to have a well-fitting mouth guard to prevent lip trauma from their orthodontic brackets. Be sure to rinse your mouth guard with water after each use, and store in a container with holes for ventilation. Every week or so, submerge your mouth guard in hydrogen peroxide for extra cleaning.
As always, call our office with any questions!