Let's Talk Flossing With Dr. Adena Borodkin of Golden Valley Kids Pediatric Dentistry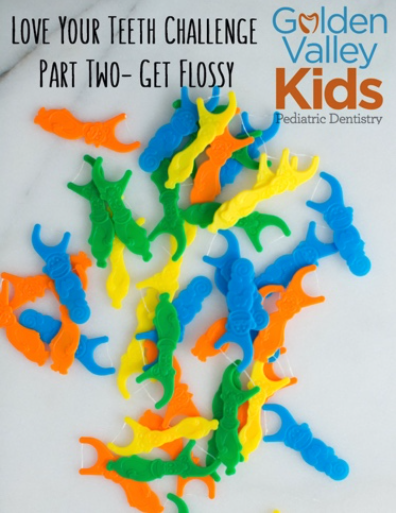 News flash! Flossing is not just for grown-ups. Flossing is important because it removes plaque and food that is between teeth. Brushing can only go so far, and flossing does the rest of the job. It's not only good for your mouth, but helps prevent bad breath, which makes morning cuddles with your kiddos much more enjoyable. Even if your kids' teeth aren't touching, you can still work on forming the habit from a young age.
To help your children understand why flossing is important, we suggest doing the following; put the pads of your two pointer fingers together. You can brush all around the tops of those pointer fingers, but no matter how well you brush, the parts that are touching (the pads of your fingers) aren't getting clean! When you use floss, it's so small, that it can get between those areas to make sure your entire tooth is getting the attention it needs. You can even have them practice 'flossing' with a piece of floss between your fingers to illustrate this point.
There are some dentists who say to floss before you brush in case the plaque you remove ends up on the surfaces of other teeth. There are some who disagree and say that flossing after you brush works the fluoride from toothpaste down between teeth, making them stronger. We say, mix it up! Try both ways and see what you prefer. Dr. Adena always brushes first, but as long as you're flossing at some point, it doesn't matter!
Plaque takes 24 hours to form, so brushing and flossing twice a day disrupts that build up. Because gums are sensitive, parents should be in charge of flossing until age 6 or 7 when kids have better control over fine motor skills. A little bit of bleeding is normal, especially at the beginning.
Floss sticks, like the ones pictured above, can be good teaching tools but ultimately, a long string of floss is best to ensure that a clean piece of floss is going between the teeth each time. Let's be honest thought, it's really hard to floss someone else's teeth! When you come for your visit, we will give you a re-usable floss holder called an EZ flosser. The floss can be changed without discarding the holder, and each kid can have their own color, so they don't get mixed up. When you use the EZ flosser, your fingers do not have to go into your child's mouth, which makes things a lot easier.
The majority of children have spaces between their front teeth, so flossing in the incisor area is not quite as important as the molar area. Once kids are 3 or 4 years old, the spaces between the molars close, and usually close tightly. This is the most common spot for early childhood cavities to form. When you floss your kid's teeth, always start in the molar areas, making sure you clean all four quadrants, prior to moving on to the front teeth. Primary teeth have tight, broad contacts between them, making flossing a very important part of keeping them healthy.
If your kids are having trouble, bring them into the office. We're happy to demonstrate!