Let's Talk Chores with Dr. Adena Borodkin of Golden Valley Kids Pediatric Dentistry in Golden Valley, MN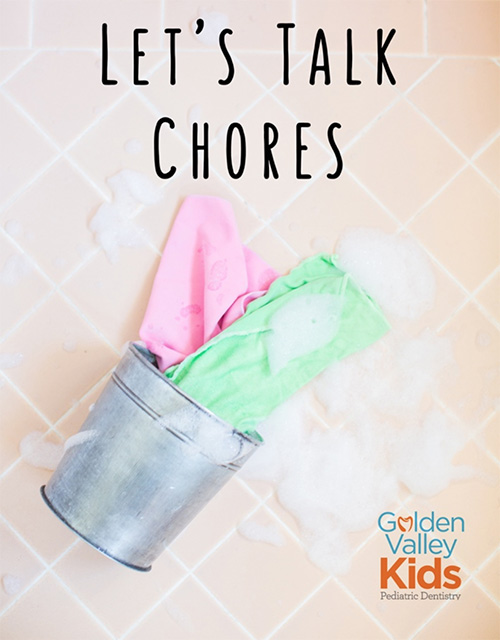 Most Twin Cities school districts have been back in class for about a week now, and now that you're settling into the school year we thought we'd have a chat about chores. Now before your blood pressure starts to rise over the thought of one more thing to nag your kids about, take a deep breath and keep reading.
Chores can be a wonderful thing! They can teach important life skills, AND important relationship skills. Yes, knowing how to clean your space and do a load of laundry (eventually) is important. What is more important is seeing everyone work together for the benefit of the entire household. Chores give children feelings of importance, responsibility, and independence.
For chores to have these positive effects, they should be age appropriate, well defined, and worked on together with positive reinforcement.
Instead of getting frustrated when your child's room is messy, try and come up with well-defined tasks that must be completed regularly instead of a general, 'keep your room clean.' Remind your children of the why. Try phrases like, 'when we keep our shoes in one spot, we have less trouble getting ready and out the door each morning.' Have set to-do lists and expectations but also allow for some autonomy over their space.
Choose tasks that are age appropriate:
As early as 2 or 3, kids can help make their bed and pick up their toys. They can also take their dirty clothes to the laundry basket and help parents clean up spills. At age 4 or 5 children can dress themselves, hang their bath towels, bring their things from the car to the house, and swiffer. Helping parents prepare food and sorting laundry by color are also great tasks for this age range. A good rule of thumb to follow is that each task you assign your child should take about the same number of minutes as their age.
Be sure to work together. Make chores a family activity and involve your children in what chores they'll do and when they'll do them.
There was a very good essay in the New York Times recently titled, "Happy Children Do Chores". It was very well written, and the link is provided below. Check it out!
Happy Children Do Chores
By KJ Dell'Antonia
Finally, many kids need a visual reminder of their accomplishments or a reminder that chores have to get done. A chore chart is a nice way to allow kids to check off or place a sticker beside their completed chores.
We wish you luck in introducing chores to your kids (ours stared at us silently for a while) and welcome your comments and suggestions!