Let's Talk About the Dangers of Vaping with Dr. Adena Borodkin of Golden Valley Kids Pediatric Dentistry in Golden Valley, Minnesota
One of the newest and most distressing epidemics among children and adolescents is vaping. So, what are electronic cigarettes? Why are e-cigarettes so popular? Why should we as dentists and parents care?
The Centers for Disease Control (CDC) released a health advisory on August 30, 2019 to urge people to avoid e-cigarettes. E-cigarettes are a public health crisis. In 2019, 27.5% of high school students used e-cigarettes in the past month and nearly 1 million youth report daily use. They are the most popular tobacco product used by adolescents, and 72% of them use flavored e-cigarette products. There are several different kinds that include e-cigs, vape pens, vapes, e-cigars, e-hookahs, tanks, mods, personal vaporizers, "juice" and JUULs.
Electronic nicotine delivery systems (ENDS) are battery powered devices that have a heating element. This element vaporizes a solution that is inhaled. They were first developed and created in China. They have been marketed as a less harmful alternative or substitute to cigarettes. Some have claimed it will even help people stop the use of tobacco products.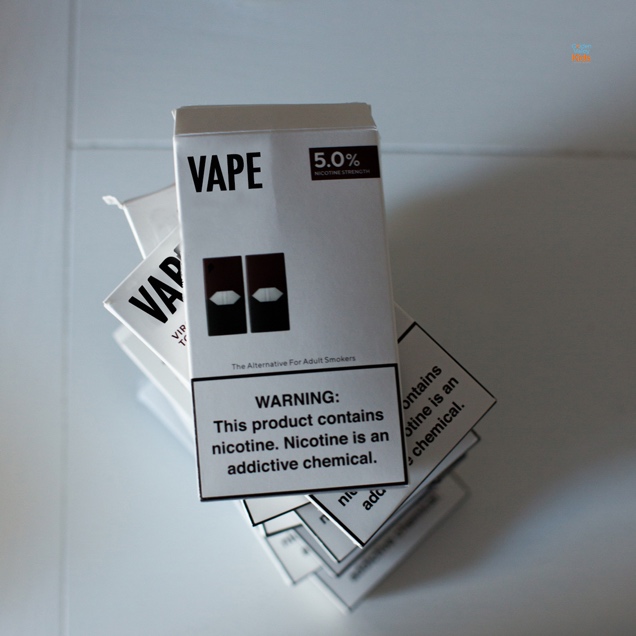 Vaping nicotine is addictive from the prenatal period through adolescence. Nicotine is also damaging to the developing brain. Many young people start using vaping products in middle and high school to try to seem cool and fit in. It is not considered smoking, so when asked, many people will say that they do not smoke. Vaping has grown in popularity because they can be used indoors, as a substitute for traditional cigarette smoking. Exhaled vapors are a concern because several toxic and potentially cancer-causing compounds have been found. Easy access is cause for concern for the user and for those exposed to the secondhand vapor.
There is a lack of regulation in e-cigarette marketing and manufacturing, unlike traditional cigarette or tobacco products. E-cigarette solutions are available in a variety of flavors and colors that are appealing such as chocolate, fruit, candy, bubblegum, peppermint, and piña colada. These flavors have been banned in cigarettes containing tobacco as they appeal to children, adolescents, and new users. In addition to all of this, many producers of e-cigarettes give out free samples to those under-age. Although it is illegal to sell to those who are under 18, they can be ordered online.
Because the electronic cigarettes are not regulated by state or federal laws, manufacturers are not required to disclose ingredients or substances that are inhaled or exhaled by the user. So, we don't know what is actually in the vaping solutions. The base of the solutions contains propylene glycol which is an irritant to eyes, throats, and airways, and can cause asthma with long term exposure in children. Some vials of e-cigarette solutions can have very high concentrations of nicotine, even in excess of lethal doses for children and adults. Symptoms of nicotine poisoning include sweating, dizziness, vomiting, and high heartrate. Nickel, lead, and tin have also been found in vapors. Acetaldehyde, formaldehyde, isoprene, and toluene are also in the pods.
Currently, the most popular vaping pod system among youth is JUUL. They look like a flash drive. A JUUL pod contains higher levels of nicotine than traditional cigarettes and 63% of JUUL users do not know that the pods ALWAYS contain nicotine and its concentration is twice that of other e-cig devices. The FTC is investigating JUULs marketing practices. It is also owned by Phillip Morris.
Vaping devices have blown up and injured people. From 2015-2017, there were 2,035 explosion and burn injuries seen in US emergency rooms. There have also been over 8,000 nicotine poisonings in children less than 6 from 2012-2017. There are substantial risks with even trying an e-cigarette. As of December 17, 2019, more than 2,500 hospitalizations from all 50 states and 54 deaths have been confirmed in 27 states from e-cigarette usage.
It is so important to talk about the dangers of vaping with our kids. They will undoubtedly be exposed to this harmful practice and must understand how dangerous and addictive it is. To learn more about e-cigarettes and vaping, please feel free to use the following resources:
AAPD Policy on Electronic Cigarettes
AAP Vaping, JUUL and E-Cigarettes Presentation Toolkit
Healthychildren.org Facts For Parents About E-Cigarettes and Vaping