Let's Talk About Protecting Your Children This Summer with Dr. Adena Borodkin of Golden Valley Kids Pediatric Dentistry in Golden Valley, MN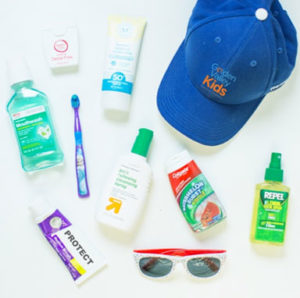 Summer fun has begun in Minnesota and it seems like the list of things we try to put on our children to protect them keeps growing and growing. We thought it would be helpful to compile information from reliable sources (linked in each section) on what you need to cover your kids, literally and figuratively.
Bug Spray: The American Academy of Pediatrics says that children as young as two months can use bug spray containing deet. Important fact: a higher percentage of deet does not mean that the product is stronger, just that it will last longer. Although deet is safe for use on children, many parents prefer to use bug repellents that are deet-free. Natural repellents are made with plant oils such as citronella, lemongrass, peppermint, and cedarwood. They generally need to be reapplied more often than products containing deet. Be sure to only apply bug repellent on exposed skin and rinse off when you come inside. Bug sprays with deet do not expire.
Sunscreen: Be sure last year's sunscreen bottles expiration dates have been checked. Use broad spectrum sunscreen to protect against all damaging rays. Set a good example by protecting yourself against the sun, as well as your children. Apply sunscreen 15-30 minutes before going outdoors and reapply often, especially if playing in the water or sweating. Babies under six months should stay in the shade. Apply sunscreen if absolutely necessary but try to keep them out of the sun.
Sunglasses: Optometrists say that wearing sunglasses can be even more important for children than adults. Protect your little one's eyes by choosing sunglasses that block 99 to 100 percent of UVA and UVB rays. Make sure that the glasses meet the American National Standards Institute's requirements or block UV absorption up to 400 nanometers. When you've found a selection of sunglasses that meet these requirements, let your children pick out a pair that they like. They will be more likely to wear them if they like them and feel a part of the decision.
Goggles: Goggles are especially important, especially in public pools. The ideal pH range is narrow, and difficult to maintain. Too little chlorine, and pools become unsanitary. Too much, and skin and eyes can become irritated. Most public pools will err on the side of too much to avoid unsanitary conditions. Rinsing off right after swimming is also a great idea to avoid irritation.
Hats: Hats provide an added layer of defense against sun rays and protecting skin on the face, neck, and head from sun damage. Many schools have no hats in the classroom policies, but allow them on the playground. Encouraging your children to wear them during recess is a great way to get them in the habit of wearing one any time they're outside.
Water Bottles: Protect against dehydration by always having water handy and encouraging your children to take water breaks often. Thirst only kicks in when dehydration is already occurring, so make sure those water bottles are being used and refilled throughout the day. Fruit and vegetables with high water content like grapes, watermelon, cucumber, and celery are also delicious ways to stay hydrated. Connect with us on social media @goldenvalleykids for kid and teeth friendly recipes.
Brush, Floss, Visit: Last, but certainly not least, is teeth! Don't forget to protect those bright smiles with twice yearly visits to our office. Brush for two minutes, twice a day, with a fluoridated toothpaste, and floss to clean the areas between teeth. The year is half over (!!!) so if your children haven't had an appointment in 2019, it's time to call us at 763-222-1299 to make an appointment with the best pediatric dental team at Golden Valley Kids.