Let's Talk About Losing Baby Teeth with Dr. Adena Borodkin of Golden Valley Kids Pediatric Dentistry in Golden Valley, MN
There's something quite exciting about when that first little baby tooth starts to wiggle!  It's a sign that things are really going to start changing for your little one's mouth!  Kids are getting excited about the tooth fairy, and moms and dads are getting teary-eyed because their babies are growing up.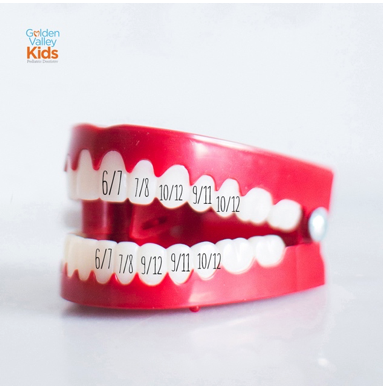 Since I get a lot of questions about this topic all the time, I thought it would be helpful to write a little review of what to expect.  Keep in mind that these are not hard and fast rules, but what happens most often in most kids.  I tell parents that the baby teeth fall out in pretty much the same order as they came in.  Remember when your sweet drooling infant first sprouted those two adorable tiny teeth on the bottom?  Well, those first ones, the mandibular primary central incisors, are the first baby teeth that they will lose!  And those teeth fall out at about the same time as the first permanent molars (also known as the six-year-old molars) in the back of the mouth are erupting.  This signifies the start of a huge transition period, where their mouths are growing and changing a lot.
The following is a basic timeline.  Again, keep in mind that these things may vary from child to child, and that little girls tend to mature dentally more quickly than little boys
5.5 -7 years old:

 

The first teeth fall out.

 

The two bottom central incisors followed by the two top central incisors.
7-8 years old:

 

This is when the lateral incisors fall out.

 

Sometimes bottom are first, sometimes top.
I've had many parents tell me that it feels like they lost all 8 front teeth at the same time!  The good news is that you (and the tooth fairy) now will get a break from this business for a few years. Children lose teeth in 2 distinct phases; the 8 incisors are lost first, followed by the remaining 12 canines and molars. Here's what you can expect from the next 12 baby teeth:
Mandibular canines:

 

9-12 years
Mandibular first molars:

 

9-11 years
Maxillary first molars:

 

9-11 years
Maxillary canines:

 

10-12 years
Maxillary second molars:

 

10-12 years
Mandibular second molars:

 

10-12 years
At times, there may arise some differences and questions with dental exfoliation and eruption.  I tell parents the most important things to keep an eye on are symmetry and sequence, and that the timing matters less.  This means that you should see the same things happening on the right side of the mouth as you do on the left, and that the order does matter.  Some kids get excited and wiggle their teeth right out while others find it uncomfortable and don't want to touch them.  The earlier they wiggle them out, the better! Over-retained baby teeth can cause their permanent successors to erupt in the wrong spot, trap food and bacteria that lead to bad breath and cavities on those new permanent teeth and make the gums sore.  If you have any questions, please feel free to call us at 763-222-1299.