Let's Talk About Antibiotics and Dentistry With Dr. Adena Borodkin Of Golden Valley Kids Pediatric Dentistry In Golden Valley, Minnesota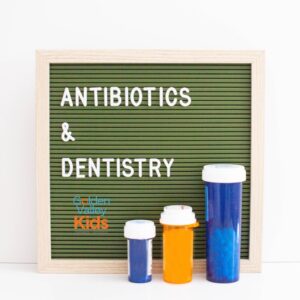 Antibiotics are medicines that fight bacterial infections. They have saved the lives of many people who would have otherwise succumbed to illnesses such as tuberculosis. But they
 have their limitations too. Antibiotics are not a cure all; they cannot be used to treat viral infections like the common cold or fungal infections like thrush. And not all antibiotics can be used to treat all bacterial infections. This is why it is so important for your dentist and doctor to get a thorough medical history and do an examination.
Most people think that when they get a dental infection, they need an antibiotic to treat the infection. The only way to thoroughly address these dental infections is through surgical means like a root canal or an extraction if the tooth is not restorable. Recent studies have shown that it is actually better to treat the actual site of the infection at the dental office when you go in for the evaluation than to prescribe antibiotics and come back at a later date to then treat the infection. There are certain situations where antibiotics are warranted. These can include fever, swollen glands, extreme tiredness, or swelling in the face.
As with any medication, there are risks associated with antibiotics. Two of the biggest risks are unwanted side effects and antibiotic resistance.
Side effects of antibiotics

Diarrhea

Some cases are so bad that people end up being hospitalized

Yeast infection
Nausea
Vomiting

Antibiotic resistance

Bacteria can evolve to become resistant when exposed to antibiotics
Can be related to improper use of antibiotics

For example, taking antibiotics that were prescribed for something else or for someone else
Taking antibiotics when not needed

Viral or fungal infections
Refusing treatment for dental infections and insisting on antibiotics

Resistant bacteria can spread from the site of the infection to other areas in the body and become very difficult to treat and can even result in death.
Antibiotic resistant bacteria can spread from person to person.
We now have bacteria that have evolved to become resistant to very strong antibiotics

MRSA – Methicillin resistant Staphylococcus aureus
VRSA – Vanycomycin resistant Staphylococcus aureus
Antibiotics cannot treat a dental infection in a definitive way. Until the source of the infection is removed or treated, the infection will persist. Some dental infections benefit from a course of antibiotics prior to treatment. These include cases with intra-oral or extra-oral swelling. Swelling can make it difficult to achieve profound anesthesia (numbness), which can make a dental procedure more difficult for the patient. Dr. Borodkin can advise whether treating with antibiotics prior to treatment is necessary or not. If you think your child might have a dental infection, make an appointment to see us as soon as possible.